I received a product similar to the prizing item, all opinions expressed are of my own.
To kick off the holiday event happening through out the remainder of October and November I am hosting a giveaway fro Pearl Distributors where one person will be randomly selected out of those entries received to win a Freshwater pearl necklace in any color of their choice available on the Pearl Distributors website.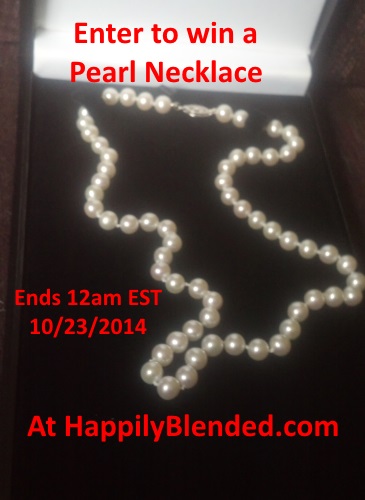 About Pearl Distributors
Offering high quality pearl jewelery and they do not sell pearls of a lower grade than AA+ in either option of Freshwater or Akoya pearls. Pearl Distributors started as a small family business which soon become an international success. Warren Garten gave up his 6 figure real estate position to focus on this company with his twin sons in 2004. Now the business runs strong with a very family orientated nature. Pearl Distributors continues to be a family run business with extended family holding positions within the company as well.
Pearl Options Available on Site:
Akoya Pearls

Freshwater Pearls

Black Tahitian Pearls

South Sea Pearls

Hanadama Pearls

Freshwater Orient
Colors:
White Pearls

Black Pearls

Lavender Pearls

Pink/Peach Pearls

Multi-Colored Pearls
Prices range from under $100 up to beyond $1,000 for Pearl Distributors pearl necklaces, price is dependent upon the type of pearl, color and clasp option.