We usually go to York Beach, Maine every single Summer, but this past Summer that wasn't proving to be an option. One weekend day, last minute, I decided to look up beaches that may be in New Hampshire but were open for us to take the kids to see the Atlantic Ocean. I found the closest beach to us that allowed us to jump waves in the Atlantic Ocean was Wallis Sands State Beach in Rye, NH. I printed directions, planned the trip, packed up stuff for the family and we were off …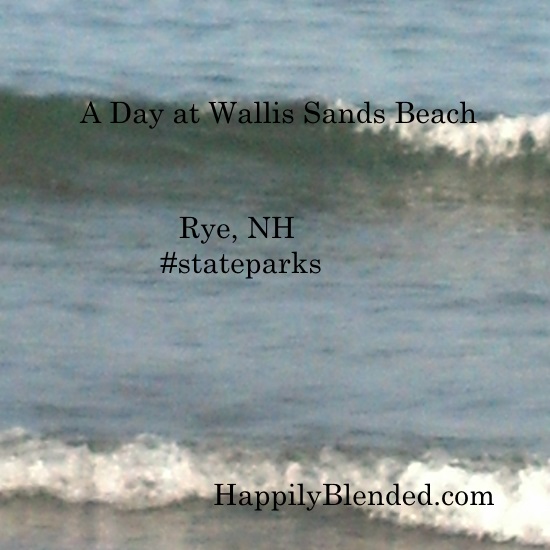 We had recently gone to Hampton Beach State Park for the day and thought, why not visit another NH State Park. As a family, we have often been found hiking in state parks and visiting as many as we can, I firmly believe in supporting our Parks and Recreation Departments at both state and town levels! What we didn't expect on this particular visit to the Atlantic Ocean was to see so many Hermit Crabs, something was going on with the moon that night or the night before, which many say is why when we went into the ocean we could see nothing but Hermit Crabs walking around all over. We caught a few and placed them in a pool in the sandy area for the little one to check out, before we left we return them to the ocean.
This pure white one was my favorite Hermit Crab we found. I loved that Ki had eye goggles on for swimming in the ocean, so she was able to see the Hermit Crabs under water so much easier than the rest of us. This is the first time I had ever held a wild Hermit Crab, totally fun experience! Then later on, a father that was at the beach with his family found this …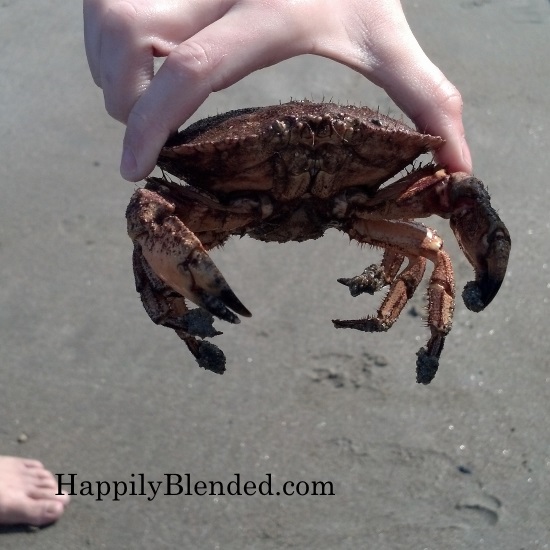 I do not know what this crab is called but let me tell you what, he has some claws on him! I held him, much like shown in the image above, but then freaked a bit thinking the claws were going to get me so I gave it back for the guy to hold for all the crowd of children to see. This crab was returned safely within the rocky area he was found, but before that any child who wanted to hold him or learn about him was able to do so. What a nice man this father was to share the experience with everyone, instead of just finding it and keeping it all hush hush with his family. My boys were so in awe over this crab!
Little man loved looking for star fish in this rocky area, you were not allowed to climb upon these rocks, but you could walk around them looking into the little puddle of ocean water areas for ocean life. We found a lot of starfish as the day ended and my step-daughter was holding her first starfish ever before we knew it!
While I would never want to reside beside the ocean, I certainly do enjoy visiting the Atlantic Ocean, the sounds of the waves and getting to touch all of the ocean life that comes with our visits, makes this the best family day ever! Everyone in the family can find something that they enjoy at the ocean, every.single.time!