Blueberry Muffins with Our Very Own Blueberries
When we bought this house last year, we loved the fact that we owned two blueberry bushes, but really what are we to do with blueberries? It wasn't until this home that I actually started to take an interest in cooking from scratch and having blueberry bushes has assisted in allowing me to make yummy treats. I decided to test out a blueberry muffin recipe and well it was a total fail. Honestly, I have not mastered the skill of baking, even though I adjusted this blueberry muffin recipe to my own liking, it still came out bland.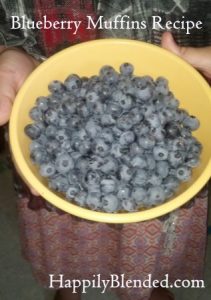 I must admit though, it was fun to have the kids pick the blueberries from the bushes, then spend some much fun in the kitchen with my son, Aj. Aj isn't usually the one in the kitchen with me, so it's a very cherished moment when he stops his world to come into mine for a bit. Even if it's only to lick the batter from the beaters, or to watch me to ensure I give him the beaters when done …
We had a great time chatting it up in the kitchen and while the kids didn't like the blueberry muffins, my fiance did and so I guess that counts for something, right?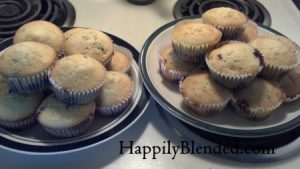 What have you made with blueberries before that came out bland? What have you made that came out delicious?