I have always wanted to be that home for kids, a place to be a "home away from home" so to speak for any and every child. One thing that is actually important to me is to be a part of the foster and adoption system some day and help kids who are a ward of the state or need a place to stay during the time their parents work to get in a better place, so it's no wonder that my children love having their friends over here at my house. I make the home cozy for kids but we do have rules, boundaries and expectations; it's not just a "kids run all" place either.
With that being said, my daughter wanted to have her bestie over for the first weekend after school ended and so I allowed that to happen with permission from her bestie's parents. What better way to ring in the first weekend of Summer break than do have a fabulous sleep over weekend event?
We went for a swim and had a family fun BBQ at my Dad's with a day trip there. Livy, my sister, the three boys, my boyfriend, Dad and step Mom all had a blast. We played pretend volley ball with a blow up ball and pretend net. We ate good food. we laughed and just had such a fun day. Sadly, one thing about having a home where you encourage people to be who they are and kids to be kids, is that occasionally the youngest will take full advantage of being a kid and do something like this …
Needless to say he lost all privileges to markers in the van for a long, long, long time after he arrived home looking like this. That is a mix of mud, chocolate ice cream and highlighter. On. His. Face.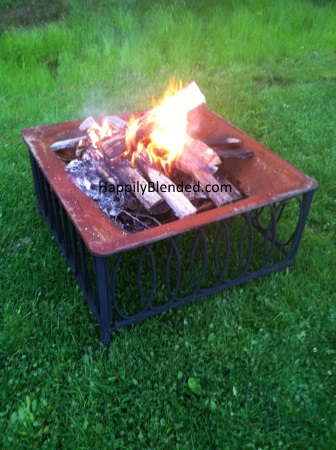 Later on that night we decided to start up the fire pit and had a lovely marshmallow roasting event where some had marshmallows and some had smores. Aj had hotdogs, because he doesn't much care for roasted marshmallows nor smores.
It was such a blast being able to have this celebration of a summer sleep over to start summer with a bang! I am glad to be able to enjoy this type of fun with little to no money spent, after all I am a simple person who doesn't believe in spending a ton of money for fun!