Another Wonderful Mother Daughter Day #motherhood
My daughter is at that stage of changes, meaning next year she will head into Middle School. This is a tough school year for most children, cliques begin to form, old friendships fade and new friendships are found. It's a tough time for anyone during any generation, I can imagine. With that being said, I noticed my daughter was in some need to have a mother and daughter day. I discussed the idea with my fiance, who agreed to stay home with my sons and have a day with them, while I went off with my daughter to get a bit of time focusing on just her. I felt it would be a great boost of spirits for her as well as myself!
Pictured above is my daughter on my shoulder and me, ready to head out of the house for our few hours together. Girl time rocks!
There is one small pharmacy downtown that my daughter and I love so much, that is Z Pharmacy, they have a gifts and sandwich shop inside too! I haven't eaten there yet but I do enjoy visiting their gift shop area. The shop is full of positive messages, cute shirts and other items that just make my daughter and I smile. Shown above is a shirt, I must have and a children's chandelier that caught my eye.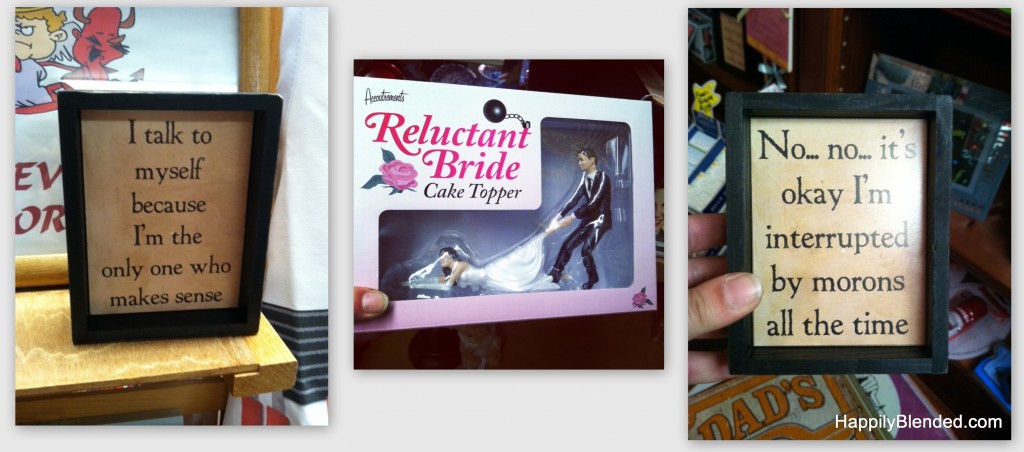 Upstairs I found myself in their irreverent corner where there are some not so kid friendly items, but mostly just gag gift silliness that isn't too non-child exposure needed. I loved the top three items shown in picture above, and honestly I am seriously debating having that reluctant bride for our cake topper because it's seriously perfect!
Once we were done window shopping at ZuZu's Gift Shop, we went down to the local Thrift Store to see what they may have. My daughter tried on the dress shown above and purchased some yarn for her knitting addiction. Afterwards I realized that getting some groeries would be necessary as I hadn't gone grocery shopping yet so we stopped into our local Shaws. First thing to do? Grab something out of the gumball machine because one never does outgrow the gumball machine!
Another store stop and then it was time for us to venture back home to my fiance and the boys. We were sad to have to return to the house of males, but we were happy to have these couple hours to enjoy just us girls.
And yes, I do think this girl time boosted both of our spirits quite a bit!