Sharing the Tradition of Cutting Down a Real Christmas Tree 2013 #happilyblended #family
Christmas has come and gone so quickly, even the 12 days of vacation from school that my children had just flew by too fast. I wanted to share our Christmas Tree story because, well it's a bit late but a fun story to share.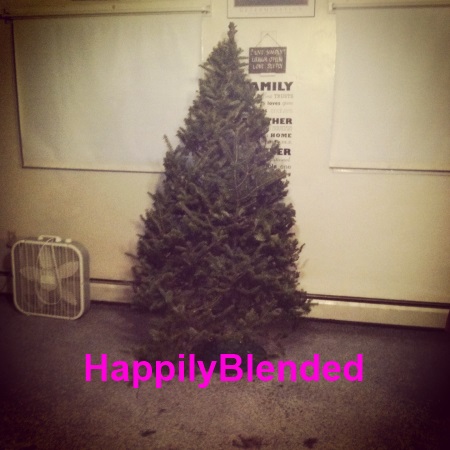 For years my children and I, up until last year, my ex husband was included too – we go and cut down our Christmas Tree. It's a family tradition. Last Christmas (of 2012) was the first year my ex husband and I did things separately, as our youngest was starting to have issues realizing Mommy and Daddy are not together even though we do a lot together as a "family unit". The traditions of our prior family had to stop being shared together as adults, but separately with our sons for each household. It was important for us to do that for our sons to move forward.
So this Christmas, 2013, was the first year we celebrated with my fiance and his children. The kids and I really want to make the fiance and his kids realize that they are a full part of our family here, the children of my fiance now have two homes – one with their Mom and one here with their Dad and me. It's important to everyone here that the children feel at home while they visit every other weekend. Sharing our picking out and cutting down of the family Christmas Tree was important.
We all headed out in two vehicles to the place just near our house to get a tree. Basically this place cuts the tree down for you and the five kids and us walked around until we found a tree that we wanted.
You see picking out a tree was half the battle, getting it into the house and on that little human tree stand was another story. The boys and my step daughter had a fun time being all cute pretending to be the real Christmas Tree. We did finally get that tree up on our tree stand and it was ready for the annual tradition of Brandy and Kiara to go at it while attempting to put garland and lights on the tree… now that was entertainment for the remainder of our family.
It all started when Kiara felt the need to report that I totally suck with winding of the garland and/or lights. Each time I attempt to wrap anything like she does in the picture above, I end up with tangles and knots. She is great at this …. I am not. I am simply a pawn waiting for Kiara's next command, or idle threat of hoping the garland is around my neck as she pulls to wrap it around her arm. She's a sweet child, I promise!
Then the arguing commences over who wants what where and why. This is ridiculous to me, but the five children placed various decorations on our first time Blended Family Christmas Tree with little mishaps. Us adults, had the job of cleaning the decorations because my over 10 year old candy canes melted and got all over the decor leaving us with no candy canes on tree this year.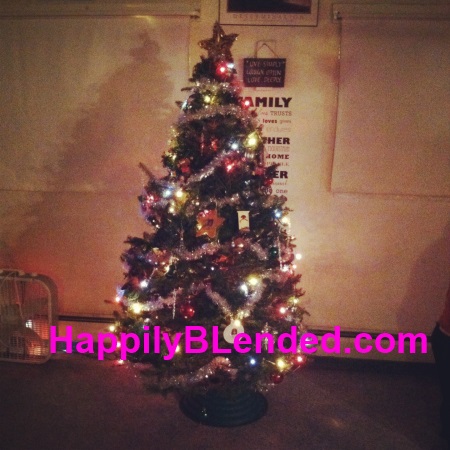 Finally our first Christmas tree together as a family was complete and we enjoyed looking at it every night until about 2 days after Christmas when I had enough and took it all down! It's important as we plan for a 2015 wedding that we remind our children that all 5 of them are our family, together always. They are all to be included, loved and made to feel a part of our lives whether with us or the other parent. We love our five combined children and would do anything for them! I was a merry, happy evening this particular evening and it's a memory I will hang onto for years.