Will we Be Back to School Soon? #schoolvacation #happilyblended
My children had 12 days, that includes weekends scheduled off for school vacation. My fiance also had the same 12 days off from his work place, it was great – the idea of having a second adult around during school vacation. I was looking forward to school vacation regardless of my fiance being off from work or not because I enjoy extra time to hang with my children. It amazes me just how fast they grow up … no matter how much they grow up, they still enjoy doing a variety of activities with their siblings and this Mama …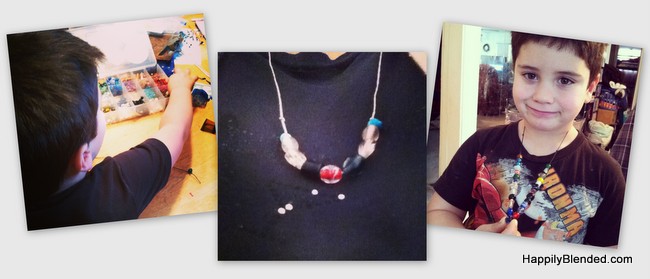 Our first idea of something to do, during this school vacation, was to get our bead collection out. My fiance's aunt sent over some beads, something that everyone enjoys doing something with. My five year old son went to work making a necklace for me and a necklace for himself. It was a fun time with us all around the table putting together jewelry from the beads and strings.
We are avid book readers in this house so it was certainly true that we got some reading in as well, one of our Christmas time favorites is Suzy Goose and the Christmas Star. The boys also had an idea that they wanted to be kings of various countries so I went to work helping them make crowns out of paper. They loved saying they were the King of Greece and King of Egypt like King Tut, etc etc. Such a fun time!
We spent so much time together between playing an occasional MineCraft via the demo on the PS3 or the full creative version on my laptop to Popsicle stick crafts like God's Eyes shown in the far right in above picture to the jewelry box made out of Popsicle sticks and board games like our favorite, Monopoly Empire.
While the 12 days of school vacation were fun and we enjoyed being together as a family, when January 2nd came, it was surely a time for the kids to be back to school as they were scheduled to be so that the regular school year routine could resume. Then it happened, ,we got hit with a bad snow storm January 2nd into January 3rd leaving the kids with no school both Thursday and Friday. So we spent time hanging out and staying warm in below zero temperatures. Now, as Monday approaches, I look forward to having routine back so I can work and the kids can attend their regularly scheduled school sessions.
What did you all do during school vacation?