Happily Blended Chicken Parm for Larger Families #happilybended #foodie #recipe
Traditional chicken parm is certainly a loved favorite of mine and my children but when making the normal chicken patty chicken parm for a larger family, it can get costly. I found out that I could create your average recipes using chicken breast but cut into 1″ chunks to ensure my sometimes 7 person family can enjoy a home cooked meal for less of the cost for traditional chicken parm. Please share this recipe if you think anyone else would love it as much as my family does.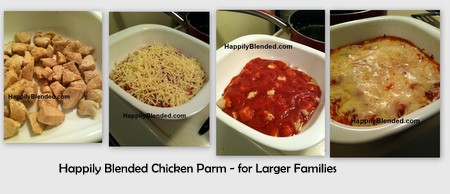 [yumprint-recipe id='3′]Did you try to make this recipe? Please leave a comment below to let me know what you thought of it! I am new to home cooking so I am open for suggestions on ways to improve my home cooked creations too!