Traditional chicken parm is certainly a loved favorite of mine and my children but when making the normal chicken patty chicken parm for a larger family, it can get costly. I found out that I could create your average recipes using chicken breast but cut into 1″ chunks to ensure my sometimes 7 person family can enjoy a home cooked meal for less of the cost for traditional chicken parm. Please share this recipe if you think anyone else would love it as much as my family does.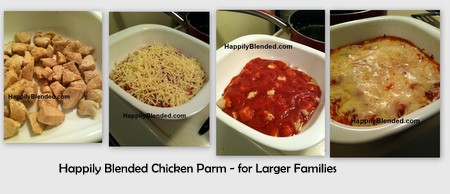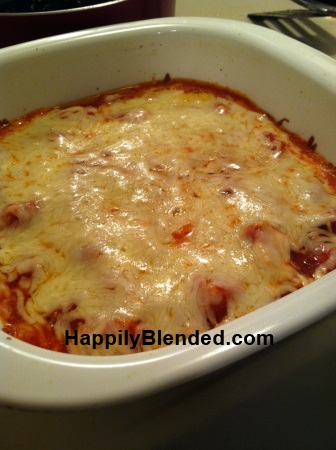 Happily Blended Chicken Parm
2014-01-03 13:24:25
Serves 5
Sure to make the whole family smile, Happily Blended Chicken Parm is a delicious treat for larger families with less cost than traditional chicken parm.
Ingredients
1lb boneless skinless chicken breast
2 cups spaghetti or marinara sauce
2 cups shredded cheddar or mozzarella cheese
5 tbsp Olive Oil
2 tsp Minced Garlic
Instructions
Preheat oven to 450 degrees F.
Cut chicken breast into 1" sized chunks. Heat skillet with olive oil and minced garlic, add chicken breast chunks once skillet has warmed up. Cook with cover on skillet via medium heat until chicken chunks are fully cooked, stirring occasionally.
Place fully cooked chicken chunks in bottom of casserole dish.
Pour spaghetti or marinara sauce evenly over fully cooked chicken chunks, ensuring to cover all pieces of chicken.
Spread shredded cheese over top of the sauce in casserole dish.
Place casserole dish in 450 degree F preheated oven for 15-20 minutes or until sauce is warmed and cheese is melted.
Enjoy.
Happily Blended http://happilyblended.com/
Did you try to make this recipe? Please leave a comment below to let me know what you thought of it! I am new to home cooking so I am open for suggestions on ways to improve my home cooked creations too!