Good morning and happy Saturday to you all! Today is the day, time to link up your giveaways and take a peek at what others have listed here …. are you feeling lucky today?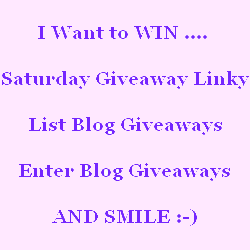 Most of you have come every week to list your giveaways so you should know the deal, but in case you are a new to the listing of giveaways game please enter your giveaway to include the below information – –
Name of Blog – Giveaway Item – End Date
Then choose the direct URL to place within the URL area of Mister Linky below. DO NOT link to your home page!