It is here, Saturday! Can I get a HOORAY? Well I am doing a happy dance, it's my weekend to have my kiddos here and I am looking forward to having a carefree four day weekend with them, yes my kids had Friday off and also have Monday off. Fun times to be had. I wish you all a happy weekend, make some memories!
Top 3 Blog Posts On Site This Past Week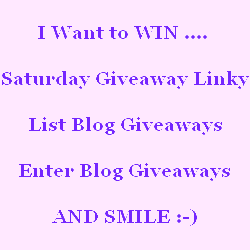 Most of you have come every week to list your giveaways so you should know the deal, but in case you are a new to the listing of giveaways game please enter your giveaway to include the below information – –
Name of Blog – Giveaway Item – End Date
Then choose the direct URL to place within the URL area of Mister Linky below. DO NOT link to your home page!