I have been on a mission to stop cooking boxed meals for dinner. Being that I wasn't that great of a cook and didn't spend time learning, I always reached for that boxed meal. The time came when I realized I could get more for my dollar if I started cooking from scratch. The first cookbook that really helped get my creative cooking juices flowing was $5 Dinner Mom, I highly recommend this book. I now work to create my own dinner meal ideas so that my large family can have more food without us breaking the bank to feed them. Today I share with you my Breaded Garlic Chicken Chunks Dinner recipe, the other day I shared my Chicken Parm for Larger Families Recipe.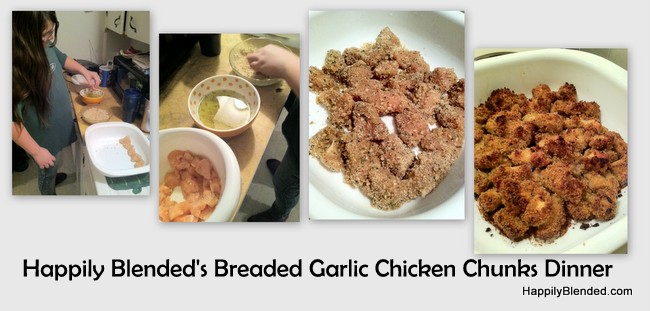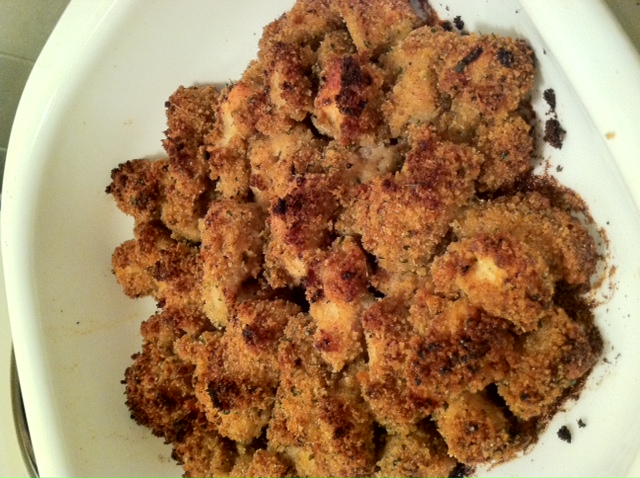 Breaded Garlic Chicken Chunks
2014-01-09 12:12:14
Serves 5
A delicious treat of garlic and chicken for the cold winter season.
Ingredients
2 tbs minced garlic
1 1/3 cups olive oil
1 lb boneless skinless chicken breast
2 cups bread crumbs
Instructions
Preheat oven to 450 degrees F.
Heat garlic & olive oil until warm on stove top.
Cut chicken breasts into 1" chunks
Place chicken chunks in a bowl. Place breading in a bowl. Place the garlic & oil mix in another bowl. 3 Bowls total.
Dip chicken chunks into garlic and oil bowl.
Dip same chicken chunk into bread crumbs, ensuring the chicken chunk is completely covered in bread crumbs.
Place in a casserole dish in a single layer at first, adding second layer of chicken if necessary.
Repeat prior steps of dipping chicken chunks until the casserole dish is full of raw breaded chicken chunks.
Bake in preheated oven for 50-60 minutes or until chicken reaches the recommended temperature for fully cooked chicken.
Happily Blended http://happilyblended.com/