The Home of Christmas Spirit in Cornish, NH #NH #christmas #events
Each year the children and I head to Cornish, NH to a place I call The Home of Christmas Spirit. Each year we normally go and see Mr & Mrs Claus there. This year, we sadly missed them … apparently they are only there on Saturday and Sunday evenings; we went on a Friday evening this year.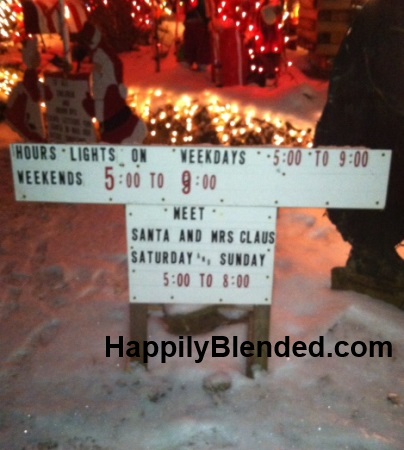 This is a completely free light display and event in Cornish, NH. A local couple is all dressed up for the children to enjoy the Christmas Spirit. You drive up a long stretch of dirt road to what seems like the middle of no where. All of a sudden you see signs "Watch for Mrs Claus and Elves dancing", "Reindeer Crossing" and other fun signs to engage the guests traveling along this long dirt road to get to the Home of Christmas Spirit.
Then you come around a corner to a terrific display of lights with Christmas music playing over the speakers. People everywhere, children everywhere. Smiles, laughter and just joy.
My middle son was the most smart of the bunch, he wore his boots, winter coat and Ski Pants. To the far right in the above picture you can see my daughter in her Pajama Pants, no joke.
You simply pull into the parking lot, get out and walk around to get a warm fuzzy of Christmas Spirit. It's a wonderful place and I truly leave with a huge smile on my face and a warm heart. They take donations so we always try to bring some change that we have laying around to do our part to assist in keeping this magic alive for years to come.
The picture above is at an area in this location where you can take a picture in various wooden Christmas images, Aj wanted to be Santa it seems and let me tell you all what, to see this child smile this big makes my heart melt. My son, Aj, is going through some difficult times with his mood disorder so when something like The Home of Christmas Spirit can lift his spirits for a period of time; that my friends is something worth keeping the family tradition going at this home in Cornish, NH.
Another note about this lovely place, your children or even the adults, can leave a letter with a return address in Santa's mailbox here; after Christmas Santa and Mrs Claus actually sit down and hand write a letter back to everyone who dropped a letter in that special mailbox. It's another part of our family tradition when we go to The Home of Christmas Spirit. The children anxiously await hearing back from Santa after the holiday has passed!
There is no website, that I can find, for this family's home. All I can say is that this is a great, heart warming holiday season tradition for us that we shared with our new additions to the family this season; my boyfriend and his children.
So if you are ever in the area of Cornish, NH … think about taking a back road and see where it leads you to, you may just be surprised!