Have you ever created a baby registry?
How about a registry for a wedding or maybe your child's birthday?
GradSave is about the same concept, you create a college savings registry by going to GradSave.com and connect a 529 Plan or prepaid college savings plan to your GradSave account. Once you have your GradSave account page created you can share this with anyone; let's say Uncle Mike lives in Texas but you live in Vermont. How can Uncle Mike give to his niece or nephew each holiday season or birthday time? Well, Uncle Mike can put a gift of money into his niece or nephews college savings plan by utilizing the GradSave College Savings Registry that you created. I know many elders who would much rather give the gift of savings to a child than the gift of a materialistic item, for that is how they can pass along a future for their younger generation relatives.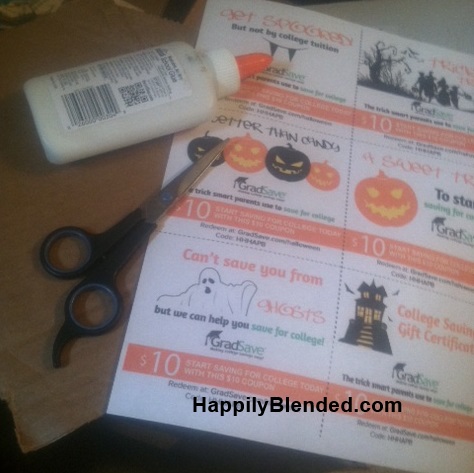 With all that in mind, why not pass along the idea of saving for college by placing $10 coupons in your trick or treat bowl this Halloween? You will be able to educate others on how they can setup their own GradSave College Savings Registry and in turn they will be passing along the idea to their children that saving money is important. I personally wasn't ever taught to budget money nor save money, but I eventually did learn through trial and error. Would you not rather a child learn through example rather than trial and error? I think it's important to teach children to save at a young age so that they learn the concept that money doesn't grow on trees.
College is an important advancement for your child, whether they go to college for some off he wall career idea or they go for what you had hoped they went for, you must start saving now to be able to afford the ever rising cost of college tuition's. The younger your child is, the more money you can save. GradSave's College Savings Registry really makes it easier to save and allow family to donate to the child's college fund from afar. This Halloween you can go to GradSave Happy Halloween Page and sign up to register for your child's registry today or you can simply print off these coupons to hand out to your trick or treaters this season. Not handing out trick or treating items this year? If you are attending any Halloween event you can print off these images and do what I did; place them on cardboard or card stock and hand them out at the event.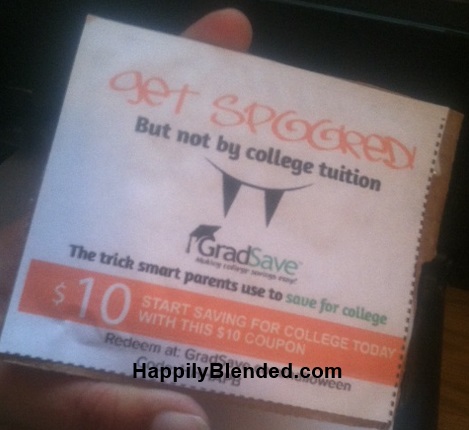 Remember, this is a legit College Savings Registry so by signing up you are indeed attempting to allow your child's 529 or prepaid college fund to be attached to this registry so that others (friends and family) can donate to your child's college savings from anywhere at any time. Do not simply sign up because I am sharing this information with you; I am sharing this information as a great idea for Halloween hand outs and that I feel strongly about saving for college if you are able to do so. With GradSave College Savings Registry you can essentially take your child's college fund further by opening doors for far away relatives and friends to easily donate to the fund.
Click here to visit the GradSave Halloween Page. Remember to use my referral code of HHHAPB if you are signing up.

Click here to print these coupons in white (shown in images) or Click here to print in black to hand out this Halloween. {will open a PDF document in new tab/window}