Well it's official, school is in the first weeks of being the 2013/2014 year … and with that comes me being able to work and having to work more. With the kiddos all being gone for school I should have time to not only work but catch up on lost sleep and lost housework time! Maybe, just maybe, I can get all of our boxes unpacked and organized in this new house too! Happy Weekend to you all my friends! Please share this if you know others who love giveaways or are hosting some!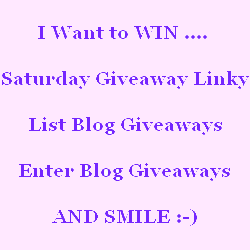 Most of you have come every week to list your giveaways so you should know the deal, but in case you are a new to the listing of giveaways game please enter your giveaway to include the below information – –
Name of Blog – Giveaway Item – End Date
Then choose the direct URL to place within the URL area of Mister Linky below. DO NOT link to your home page!