OMG … Monday brings the 2013-2014 school year for my two older kids and the week after begins the youngest first year in Kindergarten. Wow how time flies when you are having fun juggling kids and work from home! I see many parents already have kids back to school, but not me, not until this week!  Today, I am having a double birthday party for my sons who turned 5 and 7 this month ….. what are you all doing today?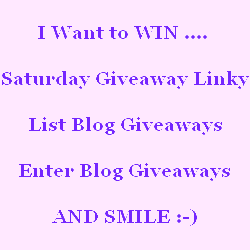 Most of you have come every week to list your giveaways so you should know the deal, but in case you are a new to the listing of giveaways game please enter your giveaway to include the below information – –
Name of Blog – Giveaway Item – End Date
Then choose the direct URL to place within the URL area of Mister Linky below. DO NOT link to your home page!