Saturday is here, every week you can enter to win who ever links up or link up your own giveaways.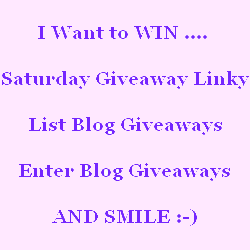 If you are looking to enter giveaways feel free to use this list as a fun way to enter some fabulous giveaways!
Please include the end date of the giveaway when linking up.
For newbies you should enter details something like this:
Blog Name, Giveaway Item (end date)
List your Giveaways Here –
NOTE if the linky is not showing up, simply use the comments section to add your giveaway because sometimes this new theme does not have the linky widget go live and I have to go manually insert it if/when I have time over the weekend! – I will then take the links and add them to the linky best I can for you!