There is a fun new line of toys released by Jazwares that will allow your children to have more imaginative playtime! The Poptropicia line from Jazwares includes figurines of Astro Knight, Shark Boy and Dr. Hare.  My family currently has Astro Knight but I am pretty sure Shark Boy will be our first purchase of these toys after receiving Astro Knight for free to review.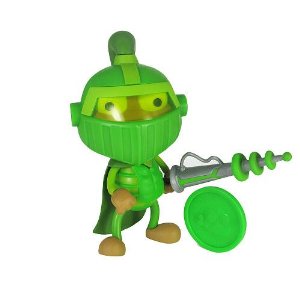 About Poptropica 6-inch Figure Assortments
Kids can follow the Ancient Ruins or act out an intergalactic quest in Arturus when they bring the virtual world of Poptropica® to the playroom with the Poptropica 6-Inch Figure Assortment. Each detailed figure comes with an accessory and a Poptropica coin with bonus code that allows users to continue their adventures online in Poptropica's virtual world (www.poptropica.com). The 6-inch figures have more than 10 points of articulation and are available at Toys"R"Us. Assortment includes Astro Knight, Shark Boy and Dr. Hare. (Each figure sold separately.)
Our Family Enjoys Pretend Play
My two sons are into the whole knight and shark boy type of imaginary play and now we get to have fun with these Poptropica figures as a way to encourage pretend play and also teach the boys to be a bit nicer when it comes to pretend play. Since we currently only have Astro Knight the boys must learn to take turns and come up with creative ways to enjoy this toy while they await the arrival of Shark Boy figurine!
Learn more about Jazwares product lines online. Check out the variety of Poptropia toys on Amazon.com or head to your local Toys R Us.

2 Flares
Tweet
Email to a friend
2 Flares
×