Technology makes it a lot faster and easier to simply express your holiday wishes to family and friends through Facebook or a text message, but what consumers want is a phone call, that is based on results from a VTech Communications survey that was conducted. This was a survey that took the pulse on holiday behaviors and attitudes.
Parents want to get everything done and still have time to enjoy the season, but moms (33 percent) and dads (32 percent) say that find that balance is a challenge and causes stress. In fact, 48 percent of moms said if they had an extra set of hands to get things done, they'd spend more time with family and friends.
Shoppers are still feeling the effects of the economy, with nearly half of respondents ranking having "more money to give presents" as their top wish during the holiday season. In addition, 47 percent of consumers said not having enough money is the most stressful thing to worry about during the holidays.
A special moment with family and friends is all consumers want for the holidays.  The holidays are known for great food and special traditions, so it's no surprise that consumers embrace the season for its togetherness. Survey respondents ranked a holiday meal (24 percent) as the No. 1 thing not to miss during the holidays, followed by a special family tradition (22 percent). The holiday spirit rings strongly, as the overwhelming majority of consumers don't want to miss out on any seasonal festivities with only 13 percent of consumers saying "bah humbug" to holiday cheer.
I personally use a VTech phone for my MagicJack home phone line and I also have it connect via BlueTooth to my cell phone when my cell service is reliable enough to do so.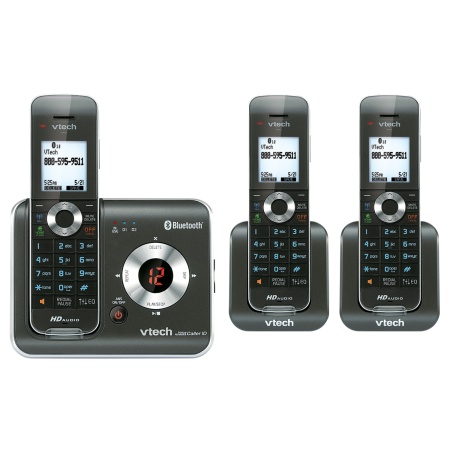 DS6421-3 Connect-to-Cell VTehch Cordless Phone features; Three-handset system equipped with DECT 6.0 digital technology for the best sound quality, security and range in cordless phones, Connect-to-cell™ functionality uses BLUETOOTH® technology for connection to cell phones and cordless handsets, HD audio– choose equalizer with four audio profiles to match users' hearing needs for superior sound quality and Expandable with up to 12 handsets, or 10 handsets and 2 headsets with only one phone jack – (uses DS6401 accessory handsets and IS6100 cordless headsets) among other features!
This is a great option for a holiday gift or way to upgrade your current phone system at home. I love that VTech has options for people who still have a land line but also those who only use cell phones. Learn more about the DS6421-3 Connect-to-Cell.