You know what I love in my stocking? Chapstick, but not any old chapstick, I want silky and smooth chapstick much like Softlips!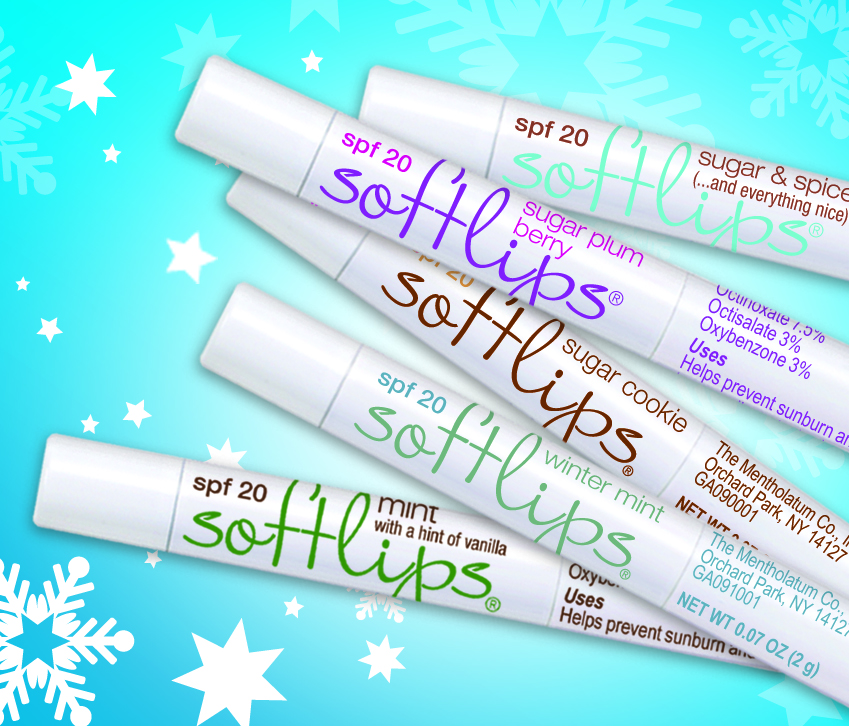 Looking to have irresistibly kissable lips this holiday season or are you in need of the perfect little gift for a friend or even yourself? To celebrate the winter season and help bring the holiday spirit to you, Softlips® is offering their limited edition Holidays 5-Pack of lip conditioners – Sugar & Spice, Winter Mint, Sugar Cookie, Sugar Plum Berry, and Mint with a Hint of Vanilla.
Packaged in a festive, blue sachet, the new Softlips limited edition winter flavor gift pack is affordable, makes for the perfect stocking stuffer, a final touch on a gift attached to a ribbon or even a gift for yourself! Each irresistibly, delicious flavor is reminiscent of the holidays, helping to protect lips with SPF 20 and great moisturizing properties.
Now through out the holiday/winter season, the Holidays 5-Pack – Sugar & Spice, Winter Mint, Sugar Cookie, Sugar Plum Berry, and Mint with a Hint of Vanilla– will be available exclusively in the new Softlips online store, www.softlips.com, for $9.99.
In addition, the classic Softlips® lip conditioning balms are available in the lip care section of the cough/cold aisles of food, retail and drug stores nationwide for the retail price of $2.79 for individual sticks or $3.99 for the special value packs that contain two sticks.
What The Happily Blended Family Thinks
Chapstick is a popular fave around this house, both my daughter and I love to wear it, but we tend to be very picky. Softlips allowed us to get the moisturizer we wanted on our lips while still having a good flavor. I would certainly recommend Softlips for all stockings this year!
Connect With Softlips
Disclosure: I received a free package of all five softlips holiday flavors for free in order to share their greatness with you. All opinions are that of my own.
Related articles