Yes we are Olivia fans, although I often wonder where the parents are in this video. It's a sweet big sister who has a little brother following her around everywhere. Not familiar with this cartoon? Olivia is on NickJr.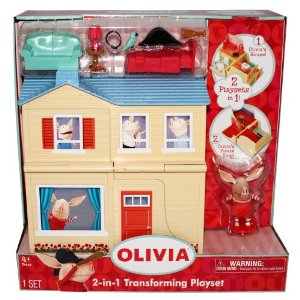 What did our family get to review this time? We received, from Team mom, one Olivia 2-in-1 Transforming Playset and one Olivia 8″ Plush. My son Baby K sleeps with the Olivia plush doll every night and even has visitors to the house give Olivia a kiss and hug.  Baby K calls his Olivia doll piggy, it has quickly become his favorite stuffed animal that sleeps next to him and his Eebee doll in the crib every night.
About Olivie 2-in-1 Transforming Playset
Your little one can go on a real adventure with the 6 and 3/4 year old Olivia. For ages four and up, this playset turns Olivia's house magically into a pirate ship! Your children can play with Olivia in her house which includes her bedroom, kitchen and living room. Then once the girly time play is over get ready to transform the house into a pirate ship ready to sail away!
This works great for my family as I have one daughter and two sons, a toy they can both enjoy thoroughly.
About the Olivia Plush
With the Olivia plush doll everyone is a star! Olivia is all dressed up and ready to perform, or sleep with your child as does my Olivia doll. With super soft plush and the best fashion sense around, Olivia comes dressed in all of her favorite outfits. Collect all four including Artist, Opera Singer, cow and Outfits.
Our family of course loves this doll, well Baby K won't let the rest of them enjoy her, but he loves this doll dearly!
Learn more and Purchase
You can purchase these at Kmart, Toys "R" Us, Target, Amazon and learn more at SpinMaster.com.
Disclosure: The products referenced in this review were provided to me from Team Mom in order to fully facilitate this honest review. The review is based on my own personal opinions 100%.