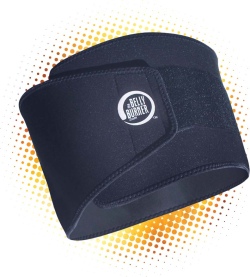 I am so excited to share with you a product called The Belly Burner that I have been using for a couple of weeks now if not a little longer as part of a way to help boost loss of my stomach fat while doing my daily EA Sports Active workouts. I must admit this product is amazing! I tested it out by measuring my waist area on Day 9 of working out and on Day 11 I found that I had lost 2″ more than I normally would lose in two days of working out alone! Now who knows if this will be everyone's results, all I have to base the results on are my personal experience.
When you use The Belly Burner with your daily workouts, walking, hiking or whatever time you feel the need to wear it above or below your clothing you can see in the above images that The Belly Burner increases your thermal core temperature which means more fat is being burned while you workout!
Washing Instructions: The Belly Burner is machine washable but not able to be used in the dryer. About once a month for frequent users washing is recommended and for other users you can simply water rinse and air dry after every use!
About The Creator: Bobby Waldron has been involved in fitness his entire life, first as a champion wrestler and later as a personal trainer and Hollywood stuntman. Most recently he has trained celebrities including Orlando Bloom, Milla Jovovich, Skeet Ulrich, Debbi Mazar and Carlos Mencia. He developed the Belly Burner Belt for everyone after using a similar system with his celebrity clients.
Where to Buy: The Belly Burner Belt comes in either medium or large and is available online at www.thebellyburner.com for $39.90. If ordered online the package includes Bobby's Blazing Abs Training DVD, the At-A-Glance Calorie Counter, and Bobby Waldron's Exercise and Food Journal Meal Planner and Nutrition Log to help you get started lose those unwanted inches
The belt can also be found at Walgreen's nationwide, as well as Sports Authority, CVS, Target and Amazon.
My Personal Opinion: I think this is a must have for anyone who has a mid section problem, after having three children, two of which only 2 years apart I have found my stomach area is the most troublesome area for me and I know this will help me reach my goal of tightening my abs faster than working out alone. I would recommend this to you as I have seen results using it on my own time. I can't guarantee the same results as I have had but I can tell you this has worked wonders for me!
You can "Like" The Belly Burner on Facebook to keep up with their current news!
Disclosure: I received The Belly Burner for free as a way to help me test drive the product thoroughly and share my personal opinion with my readers. All opinions set forth above are based on my personal experience with The Belly Burner and are 100% that of my own.
0 Flares
Tweet
Email to a friend
0 Flares
×