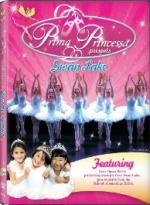 Today I get to share a great DVD for your daughter to watch, Prima Princessa presents: Swan Lake. This is a 40 minute long DVD that features the Paris Opera Ballet performing excerpts from Swan Lake, as well as students from the School of American Ballet.
My daughter is in love with ballet and has always requested to take ballet classes, unfortunately I don't believe in over scheduling my children and she already has Girl Scouts year round as well as Soccer in the fall season.
This DVD is a great addition to your family's DVD collection, especially if you or your child(ren) have a love for ballet! This DVD is narrated by the adorable Prima Princessa and in between acts Prima Princessa guides you through ballet steps demonstrated by the School of American Ballet students. This was a great DVD to enjoy with my daughter for some mother/daughter time and I would highly recommend for you to check it out.
Can also be found at Toys R Us and NCircleEntertainment.com
Disclosure: I am a DVD reviewer for NCircleEntertainment and each month I receive a DVD for free so that I can share my personal opinion about the family DVD. All opinions are that of my own based on my personal experiences.
0 Flares
Tweet
Email to a friend
0 Flares
×