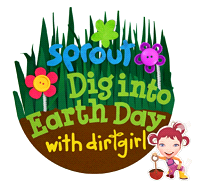 Sprout announces Dig Into Earth Day with dirtgirl that will air on April 22, 2010 on Earth Day!
About Dirtgirlworld
dirtgirlworld is the first green living series for preschoolers. It's a contemporary, vibrant, eco-friendly show that was designed to introduce young children to the joys of outdoor play and sustainable, green living. The show is very music-centric and features a distinctive blend of live action and animation with photomontage and illustration that takes the audience to a world where the real and unreal collide.
The Kick Off Event on Earth Day
To help kick-off the celebration The Sunny Side Up Show will feature crafts, games, activities, meet-the-character segments, clips and music videos from the show starting Monday, April 19th. On Thursday, April 22nd, The Sunny Side Up Show will premiere the first episode of dirtgirlworld and stick around for a marathon from 12:00 – 3:00pm to get to know our new dirtgirlworld friends. Also, Earth-friendly programming will air throughout the schedule all week on Sprout, including an Earth Day version of The Good Night Show.
Parents Celebrate With Your Preschoolers
Games, crafts and environmentally-friendly tips for parents and preschoolers are available on both SproutOnline.com and SproutforParents.com. Be sure to check out the coloring book, and in honor of the environment, instead of printing you can post your finished artwork to facebook – http://www.sproutonline.com/sprout/games/dirtgirlworld-coloring-book.aspx.
NOTE: After its Earth Day debut, dirtgirlworld will air on Sprout at 4:50 p.m. ET, as part of The Sprout Sharing Show.
Disclosure: I am a member of The Band of Bloggers at Sprout which means I get to share with you information about Sprout as well as news and announcements. I am not paid to share this information with you, but at times I do receive special incentives from Sprout.