WARNING: Do not mind the fact that this is an adult website, I will only be linking to the home page and the product I received, so no one under 18 years of age should be visiting this website as the review is meant for adult purposes only, but this actual review is friendly for all ages in terms of images and content, just do not click on links if you are under 18 years of age. I am posting this review after midnight EST due to the adult nature.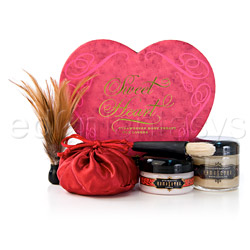 I received the Sweetheart Strawberry box from Eden Fantasys for review purposes as a nice Valentine's Day gift idea for your sweetheart. This product is unique in that it comes with body paint and a body brush in a cute heart box. This would be perfect for a Mother's Day gift from husband to wife or boyfriend to girlfriend, or whatever your relationship status is.
About Sweetheart Strawberry Box
Contents: Strawberry Sweet Heart Box includes: Net wt 1.8 fl oz 50 ml Strawberry Crème Body Soufflé, net wt 2 oz 50 g White Chocolate Body Paint, net wt 2 oz 50 g Strawberry Dreams Honey Dust.
Ingredients:
Strawberry Souffle: Water, Ethylhexyl Palmitate, Cetyl Alcohol, Glyceryl Stearate, Caprylic/Capric Triglyceride, Glycerin, Dimethicone, Cetearyl Alcohol, Flavor, Polyacrylamide, C13,14, Isoparrafin, Laureth 7, PEG 100 Stearate, Carbomer, Sodium Saccharin, Sodium Hydroxide, Potassium Sorbate, Tetrasodium EDTA, Phenoxyethanol, Red 40, Red 33 and Benzyl Alcohol.
White Chocolate Body Paint: Corn Syrup, Palm Kernel Oil, Hydrogenated Palm Oil, Non Fat Dried Milk, Whole Milk, Glycerol Lacto Esters of Fatty Acids, Soya Lecithin, Salt, Vanillin, Ethyl Alcohol, Water, Food Starch, Titanium Dioxide, Flavor and Sodium Benzoate.
Strawberry Honey Dust: Corn Starch, Honey Flavor, Silica, Sodium Saccharine, Red 33 and Red 40.
The box arrives looking like a box of chocolates but then your significant other will open it up for a big surprise. This is a great way to spice up your love life if you are into experimenting with products like these. If not it could also be used as a cute gag gift for that baby shower or marriage, because honestly people always joke that the spice in your life dies with marriage or after having a baby. Not that I think that's true, but some are into those cute little gag gifts and this would be cute for that as well.
Why Eden Fantasys?
I like Eden Fantasys because they not only offer a variety of sensual type products but they do offer massage oils and candles as well so that you can have a nice romantic evening with your loved one. I love the idea of a candle lit back massage, oh how wonderfully exciting that would be after a long day of chasing the munchkins all around the house.
So if you are not into the Sweetheart Strawberry Box that I personally reviewed you may be interested in sensual massage oils or romantic candles to provide your loved one with a relaxing night for Mother's Day or Father's Day this year!
Disclosure: I have a review relationship with Eden Fantasys in that I receive products for free. All opinions and/or reviews I provide on my site are that of my own personal opinion and I was not paid for my personal opinion of any product.
0 Flares
Tweet
Email to a friend
0 Flares
×