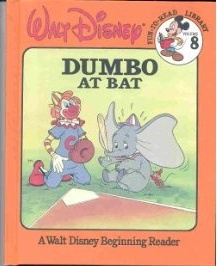 The other night AJ chose Walt Disney Dumbo at Bat for his bedtime story and as I was reading it I realized the message behind the book was pretty much "if you think you can, then you can".
I immediately thought about writing a blog post, why? Well because this is a great topic for Happily Blended. I am a firm believer that anyone can accomplish anything if they simply change their attitude and truly believe they can.
Something from feeling fat, to being depressed to wanting to gain that big time job or career you feel you deserve, it's all about your mindset. When a person truly believes they can … they will. It's inevitable.  If you are constantly looking at yourself in the mirror every morning and focusing on those freckles or chubby cheeks that you all of a sudden despise, then your mood for the day is bound to be that of a negative one. If you keep telling yourself that you are not getting that job you applied for, then you probably will not get it.
Funny how a simply change in thought and truly applying that thought through out your day and life can change the direction your life is going.  I am  living proof that if you stick your mind to something and truly feel that it can happen … it will happen! Seriously, I believe everyday that I can make it working from home and do I? Yes, I do. Am I rich with lots of extra money? No, but I can survive to the best of my ability and still get to spend my days raising my children, taking them to events and just having a grand ol' time being Mom.
So back to the story book, Dumbo and his animal friends were playing baseball against the clowns when it came down to one player, Dumbo, having to participate. Dumbo told his friend Timothy the mouse that he can't play baseball, Timothy reminded him to think that he can and he will. Sure enough, Dumbo missed hitting a ball .. strike one came … strike two came … and then on the third try Dumbo thought "I can hit this ball" and voila Dumbo hit the ball into the outfield so far that he ended up getting a home run and winning the game!
All it takes is a small thought to win a lifetime of big events!
Question for thought: What is it that you really want in your life? Take time everyday to think you can and see how that thought process changes your life.
0 Flares
Tweet
Email to a friend
0 Flares
×