The past couple of weeks I have been feeling exhausted, my body was aching and it seemed I knew, just knew I was going to get really sick! You know that feeling that you know your body is telling you something isn't right and that you are about to get really sick?! Yeah I had that feeling and so I started pumping the Orange Juice to me …
I woke up having the most awful stomach cramps which turned into something I am not going to get into details here on my blog but am sure you can figure it out! I almost started to cry when I realized that I have the most funny, silly kids in the world. I watched as Baby K decided to become a seal and balance his cereal bowl on his head …
If that doesn't make you want to laugh so hard you cry, I don't know what will. I came out of the bathroom to find him doing this, it was hilarious and of course once I laughed he was only  more than happy to do it again … and again … and again! Kids are great!
I also caught my daughter and AJ snuggling watching an end of night cartoon together, now this is a rare find …
I don't know I am thinking maybe the kids were sick too, because this was not the first time I found those two snuggled up being sweet together …
Now if that isn't a miracle, I don't know what is! Siblings love to fight, love to love and well Mama loves to try to keep the peace!  So that's it for now … hopefully you all had a super fun weekend, now that my sickness seems to have started to go away hopefully I can catch up on some giveaways, product reviews oh and some really great posts that have been filling my head all weekend!! I must end this with a cute little picture my daughter drew me on Sunday to make me feel better ….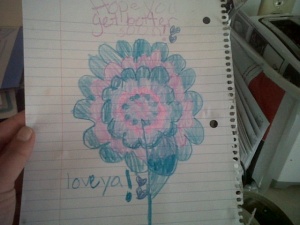 0 Flares
Tweet
Email to a friend
0 Flares
×