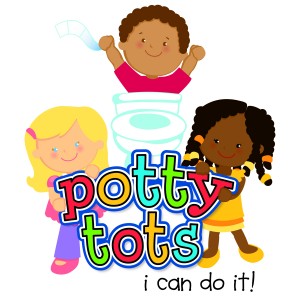 Yes with the help of Potty Tots I have been attempting to encourage potty training with AJ who is now 3 and a half years old. I will be honest Baby K shows more interest in the potty than AJ so I am hoping by attempting to encourage them together we will get at least one of them out of diapers soon. I want AJ to go to preschool next year since he didn't potty train this year I never sent him to 3 year old preschool, I refuse to put him right into all day Kindergarten before at least having some experience in a school setting and so it began, last week I started working at an increased awareness of the bathroom and the fact that myself, sissy and yes even Daddy go pee and poop in the potty.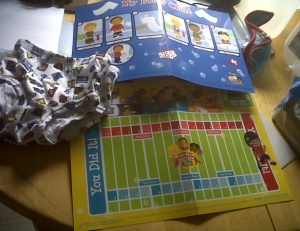 So as you can see we have the undies and we have our kit, well part of the kit. Potty Tots comes with a story book, a DVD, a game and a cute poster that shows in pictures and words what you are to do before and after you go potty! I went over the poster with AJ who knew what all the pictures were and had fun telling me step by step what he needs to do in order to start using the potty and then afterwards flushing and washing his hands. He loves flushing and washing his hands … still working on the loving the potty thing!
The Potty Tots DVD is awesome, both Baby K and AJ enjoyed dancing around to the cartoon rock video on it and they loved the cartoon! I plan to start reading the story book before bed soon as another way to help encourage this potty training idea! AJ is a very competitive child as well so even though I am not sure Baby K is quite ready for potty training, we have the game that comes with the Potty Tots kit set up so that Baby K and AJ both have a football character on each end so that they can see who will win. I have explained to AJ that every time he goes pee on the potty he will move his football man forward and so will Baby K. Whichever of them gets to the other end zone first wins a trophy, for a child who loves competition he was all over this idea.
Our days have started with AJ wanting to wear his big boy undies that my step mother and Dad got him, and so he wears them with a t-shirt nothing else running around during the morning hours. AJ is a backwards child, I swear, seriously he tells me he has pooped in his diaper when he peed and tells me he pees when he has pooped. Another thing I found out is that although AJ understands the whole peeing and pooping on the potty thing and has shown interest and has other signs that he is ready, he apparently thinks he is suppose to sit on the potty and tell me he has to pee after he has already peed in his undies.
So that is where this family is at with the whole potty training idea, he loves his Potty Tots kit for boys and he is excited about his undies but for now he thinks he pees in his undies and then sits on the potty! Hey it's a start and the fact that the Potty Tots kit comes with a competitive type game, it's working to increase interest in the whole potty training idea and that is something any parent should be thankful for!
ENTER TO WIN POTTY TOTS AT HAPPILY BLENDED!
Disclosure: I received the Potty Tots Training Kit for Boys for free as a way to review and express my opinion on the product. This personal review is based on my personal experience with the product and includes only 100% opinions from myself.
0 Flares
Tweet
Email to a friend
0 Flares
×