I was checking comments from my Verizon Wireless Blackberry Curve the other day when I saw a few comments come in to tell me I had something on their blog waiting for me … well thank you so much to Super Mommy To The Rescue and The Frugal Kennedy's and another award came in while I had this sitting in drafts from Free Skin Care Help (Heather)! I was also tagged over at Momedy, and I will have that response up within the next 24 hours too!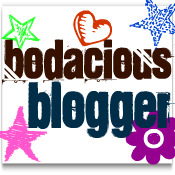 The rules for this award are simple:
Choose 5 bloggers that you are totally addicted to reading that you feel deserves a little something something extra for all of their hard work, time and dedication.
Tag each of those bloggers in a post linking to their most recent blog post.
Then, grab the code from the box below and add it to your post so the recipient of the Bodacious Blogger Award can grab it and pass on the love. (or rather right click and save image from my blog)
Then, answer the following questions:
1. What do you love most about blogging?
2. What do you dislike about blogging?
3. What is the one thing you hope to achieve from blogging
What I love most about blogging is the connections with men and women around the world who come to me personally for advice, so many friendships have been formed through blogging.
Being a female blogger has it's challenges … DRAMA … woman are very dramatic (not all, but most) and that is the part I don't get involved in but do dislike to see around the blogosphere.
I hope to find my voice from blogging, I am great at expressing how I feel and being very outgoing online but in the real world I tend to be a bit more subdued as to not hurt peoples feelings or upset them. Blogging will hopefully teach me to "grow a backbone" basically!
Totally Addicted to These Bloggers:
MommaDJane



More Rules as is the norm with blog awards:
Put the Logo on your sidebar, or within a post.
Pass the award onto 12 Bloggers
Link the nominees within your post.
Let the nominees know they have received this award by commenting on their blog.
Share the love and link to the person from whom you received this award
12 Sunshine Bloggers MAN OH MAN this is hard, but here goes:
So there you have it! Congrats all and do not worry if you don't re-post I know its "the rules" but I won't be offended! Just wanted you to know what I think of you all! Big hugs and enjoy your weekend!