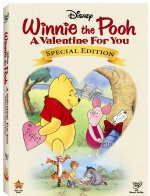 The DVD cover reads "Get ready to fall in love with this timeless Special Edition of Winne The Pooh's beloved Valentine's Day classic!" They were not joking, I love Winnie the Pooh and this sweet honey bear brings back memories for sure of my younger years. I am not a huge fan of Valentine's Day but this DVD was a special addition to our family movie collection.
This special edition DVD was released on January 5th and I was able to get a sneak peek of the collection prior to it's release. My children loved this DVD, Baby K loves "poo" as he calls the squish-able bear and my other two children just love Piglet, I am an Eeyore fan myself, seriously I collect everything to do with him!
My family was very pleased with this DVD and would highly recommend it to be an addition to any family who loves Winnie The Pooh!
BONUS FEATURES
*"Catch the Love Bug Game" – Flying "Love Bugs" are on the loose in the Hundred Acre Wood and it's up to the viewer to catch as many as possible
*Pooh-themed Valentine's Day cards
Winnie the Pooh: A Valentine for You Special Edition is available for U.S. $29.99 (SRP), Canada $35.99 (SRP) from Walt Disney Studios Home Entertainment.
DETAILS:
Rated: TV-Y
Run time: 60 minutes
DVD aspect ratio: Full screen (1:33:1)
Sound: Dolby Digital Surround Sound
Language: English, Spanish, French
I found this DVD on Amazon for $23.99 but I am sure you can purchase it at Walmart and other stores too!
Disclosure: I received a free copy of this DVD for complete review, I was not paid any money for my opinion of this product. All opinions are 100% mine.