As a child I recall seeing the books from Busytown Mysteries, I am uncertain if I ever really watched the cartoon on television, however, when the One2One Network asked if I would review this DVD I accepted because Busytown Mysteries
introduces children to deductive reasoning skills; who, what, when, where, why?
As a young child I enjoyed reporting on various events and turning them into a mystery type of story. I can only hope Busytown Mysteries will pass my love of creating and solving mysteries down to my three children. This morning I sat on my couch in between my three children and watched the DVD sent to me for review and I loved watching my 7 and 3 year old interact with Busytown Mysteries to help solve the mystery of the falling cherries!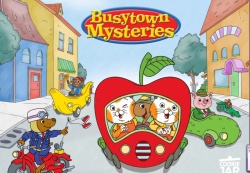 Some key points regarding Busytown Mysteries:
Richard Scarry's books have sold over 150 million copies and have been translated into 30 languages over the last 40 years.
Busytown Mysteries can be watched on CBS weekend mornings, here is a schedule for

Busytown Mysteries on CBS

.
Busytown entertains and educates children from home anytime with their

Busytown Mysteries website

.
Busytown Mysteries is a half hour program on CBS but includes two 11 minute episodes, which is great for the young ones who don't really have a long term attention span (like my AJ).
You can purchase a variety of Busytown Mysteries on Amazon
, but first check out the Busytown Mysteries website and check out all that Busytown can offer your child.
Make it a Happy Day!
Disclosure: I received a DVD copy of Busytown Mysteries to allow for an unbiased, personal opinion about Busytown Mysteries from the One2One Network. All opinions set forth of those of my own based on my families personal interactions with Busytown Mysteries on DVD.