Today is Day 10 of my EA Sports Active 30 Day Challenge

and I am excited that I am continuing along with my venture to get fit and healthy! I will tell you I took one too many "rest" days this week but plan on working out a few days in a row to make up for it. Overall I am to have 20 workout days and 10 rest days with this program.
Today I was lucky because I had my three kids cheering me on to get moving forward in my fitness goals, every time I did a good workout they would cheer for me …
Today I wanted to not only show you a picture of my workout … but calculate all the calories and workout hours I have completed in my 10 days of the 30 Day Challenge
. I really hope you are enjoying my updates … please remember I love hearing about your stories too so share them with me in a comment or blog post …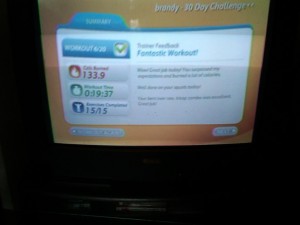 Totals:
Calories Burned in 10 Days: 634.2
Hours Worked Out In 10 Days: 1 hour and 15 minutes

Make it a Happy Day!