It's official, I didn't update the past three workouts or rest days I should say. Day 6 of the EA Sports Active 30 Day Challenge
was a "rest day" but day 7 was to be a workout day just like today, Day 8.
I rested as stated for Day 6 and when Day 7 came around, I started my workout later in the morning, rather than 1st thing so that kind of made it hard to motivate myself to workout. Add in that my boys didn't seem to want to corporate with me this day I had trouble getting my workout done. Finally about half way through my workout routine the Wii remote
froze and I realized that we hadn't charged the controller overnight as we normally do! Needless to say Day 7 ended up being half a workout and then the remote had to charge.
Today was Day 8 and here are my updates in pictures …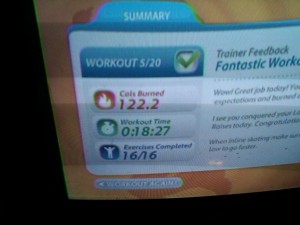 I also received not one but TWO trophies and that's something AJ loves to encourage and congratulate me on (he's a very competitive child):
I am on my way to getting fit, oh and I was reminded by my daughter's father today to stop stepping on the scale because I am removing fat and gaining muscle so I can't go by "weight". I put myself on the scale and gained 3lbs, so that freaked me out! Now I did lose 2″ on my waist but never measured the rest of my body so today Day 8 I plan to take body measurements to keep updating everyone on the status of inches lost!
How are your fitness goals coming along? Sticking to them? I hope so, if I can do this … YOU CAN TOO!
Make it a Happy Day!