Today is Day 11 of the EA Sports Active 30 Day Challenge
and I received a trophy for burning 1000 calories total.
So I had a good workout but did it at the end of the day not first thing in the morning. Today is Sunday and while my husband is still living here, I still do my Sunday sleep in routine where I get to snooze as long as I want to catch up on my long 6 previous days with the three amigos (my children).
Not only did I do my normal work out and burned great amount of calories but I did some yard work and cleaning of my garage. Since my husband is moving within the next week or two we are trying to organize things and make room in the garage so that maybe I can rent it out for someone to store their vehicle or boat, something like that.
I had fun playing with the kids in our backyard, running around and smiling and laughing all day! I also was able to find some long lost clothing for my daughter and many items I could try to sell but put out front for free instead. Normally I would place my free items on Freecycle but reality is I don't have the time to wait for people to come pick up items. Where I live is a fast and busy road so normally free piles go fast, we have already had most of the items taken … yay!
Next was to clean the yard up a bit for Winter, we bagged up items that had accumulated from drivers who apparently feel it's okay to toss their junk out of their cars into our yard and some other items that needed to be tossed out. Next week we will work on getting the kids toys taken care of for Winter and putting our old tires we took out of our woods placed neatly down along the property line so that the kids will have their sledding area ready for snow days!
So today was great, here are the images of my EA Sports Active
workout …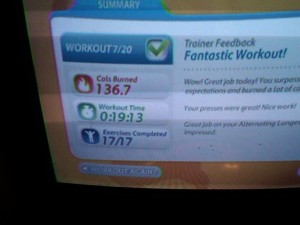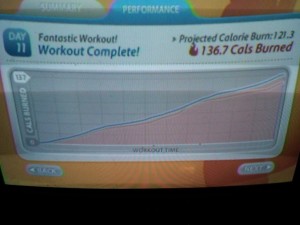 Make it a Happy Day!