Thanks to Crystal over at Simply Being Mommy for a great blog award titled "Over the Top"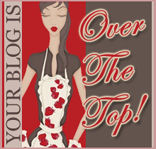 With most blog awards there comes some rules to follow and so here goes:
USE ONLY ONE WORD! It's not as easy as you might think. Copy and change the answers to suit yourself and pass it on. It's really hard to use only one-word answers so try your best.
1.Where is your cell phone? Kitchen
2.Your hair? Curly
3. Your mother? Home
4. Your father? Farming
5. Your favorite food? Pizza
6. Your dream last night? Scary
7. Your favorite drink? Water
8. Your dream/goal? Happiness
9. What room are you in? Office
10. Your hobby? Crafts
11. Your fear? Basements
12. Where do you want to be in 6 years? Home
13. Where were you last night? Couch
14. Something that you aren't? Angry
15. Muffins? Blueberry
16. Wish list item? Cubicle
17. Where did you grow up? NH
18. Last thing you did? Blog
19. What are you wearing? Pants
20. Your TV? Monitor
21. Your pets? Cat
22. Friends? Lovely
23. Your life? Happy
24. Your mood? Optimistic
25. Missing someone? Family
26. Vehicle? Saab
27. Something you're not wearing? Socks
28. Your favorite store? Kmart
29. Your favorite color? Purple
30. When was the last time you laughed? Today
31. Last time you cried? Yesterday
32. Your best friend? Dwan
33. One place that I go to over and over? Walmart
34. One person who emails me regularly? Dad
35. Favorite place to eat? Home
Make it a Happy Day!