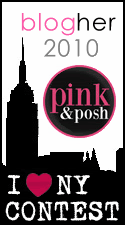 I just have to share this with you! Pink and Posh is hosting a fantastic giveaway and you can win tickets to Blogher10 in NYC. Since I didn't get to Chicago for Blogher09 I plan to get to NYC event through sponsorship or winning a giveaway such as this one! NYC is only a 5 hour drive for me, which works great as I am still afraid to fly!
Simply stop on by Pink & Posh to enter to win. You can enter daily through a variety of ways!
One Grand Prize Winner Will Receive:
Pink "I Love NY" coffee mug
Pink "I Love NY" key chain
Pink "NY Princess" shot glass
Pink "I Love NY" magnet
Black & White "I Love NY" tote bag
Black & White Statue of Liberty postcard
Hot Pink "Hater Blocker" Sunglasses
White "New York City" baby onesie (size 6-12 months)
Black women's "New York City" T-shirt (size medium)
$25 Gift Card to Dylan's Candy Bar (Sponsored by By the Book, Karmel Publishing)
One 1-day unlimited Metrocard (NYC public transportation pass)
Born to Shop New York by Suzy Gershman
$50 Gift Card to Jeckyll & Hyde Restaurant (Sponsored by Princess Time Toys)
$25 Starbucks Gift Card
Good Night New York City children's board book
One current issue of Time Out NY Magazine
Assortment of NYC-theme snacks and beverages
Strech limo ride courtesy of NY Limo Guys to pick you up from the airport and bring you to the Hilton in NYC
One BlogHer '10 Full Conference Pass
Make it a Happy Day!